The AdvCash platform offers several ways to deposit funds to your account:
deposit by bank card transfer.
In this manual we will explain how to deposit funds to your AdvCash account by transferring them from your VISA or Mastercard card.
To deposit to your AdvCash account you need to log in to your account or register it if you don't have an account on this platform yet.
Go to https://advcash.com/.
Click on the Log in button in the upper right corner to log in or Sign up to register.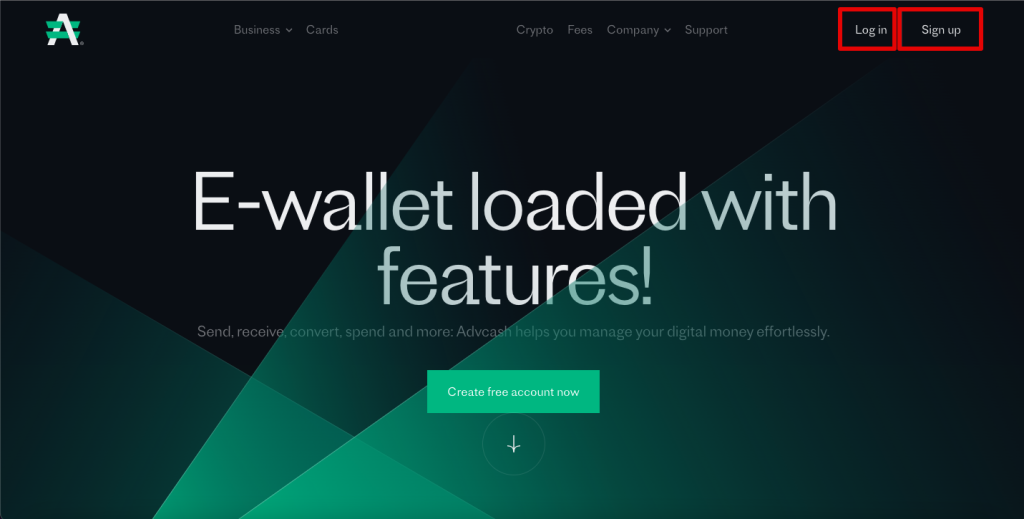 If you already have an AdvCash account, enter your e-mail and password in the appropriate fields in the authorisation form and click on Log in to AdvCash.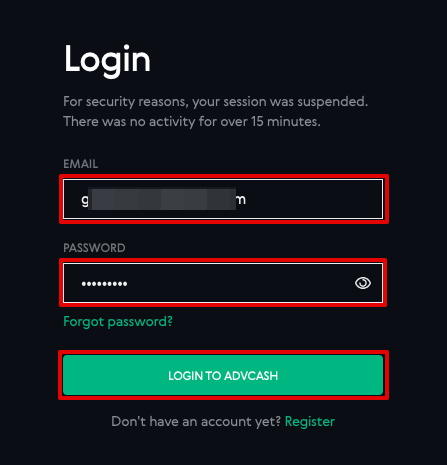 If you do not have an AdvCash account yet, please register in the system using the Register or Sign Up button. If you are already registered, you can skip this step.
To register you need to fill out the form by entering your first name, last name, email, come up with a password, and complete a quick validation by dragging the slider to the right. Then read and accept the terms and conditions of the user agreement and privacy policy and click Register.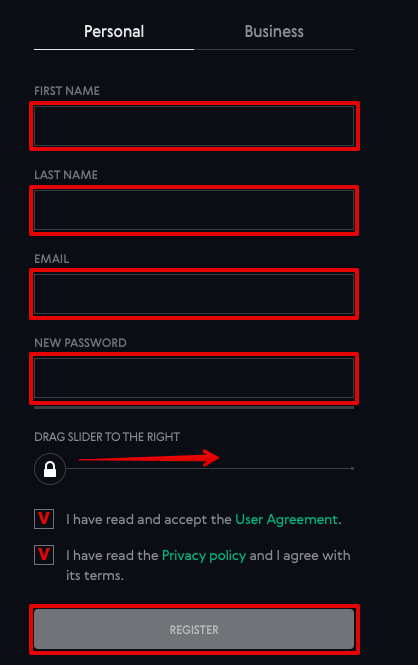 Once you have successfully logged in, you will need to verify your identity to gain access to depositing into your account.
If you have already verified your account, you can skip this step.
Click on the red Not verified bar in the top right corner of the window. This will take you to the profile settings and identity verification section.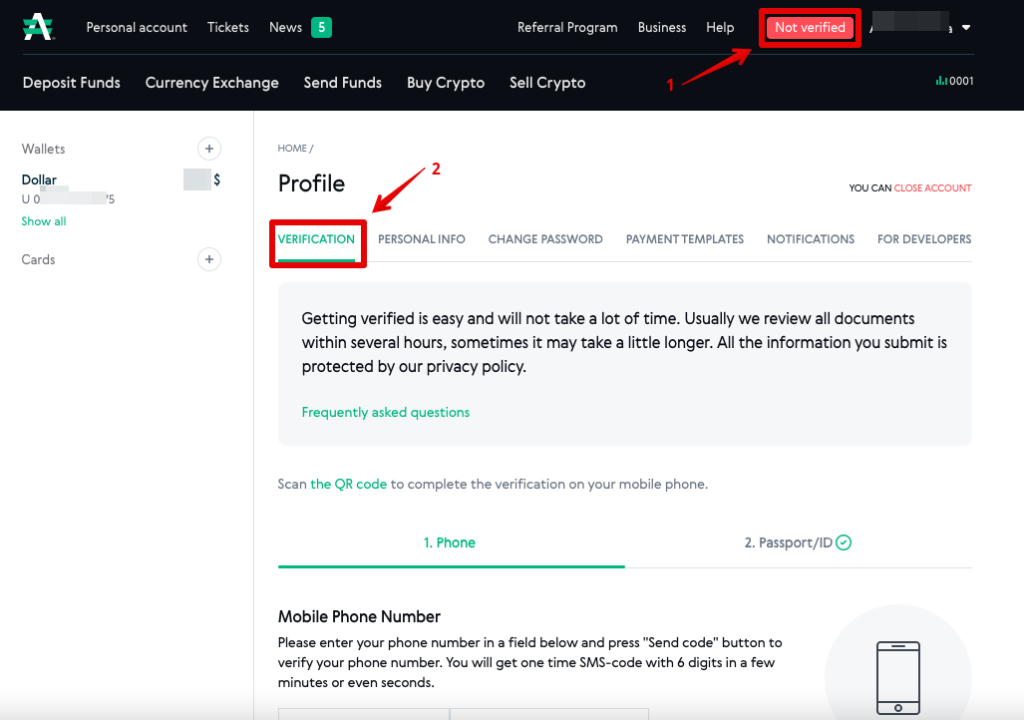 First, you need to confirm your phone number with a code that will be sent to it, and then upload a photo of your identity document and take a selfie.
Please refer to the instructions on how to pass identity verification in the AdvCash system.
After getting verified, you can proceed to deposit to your account.
Go to the Deposit Funds section. Enter the deposit amount in the corresponding field and select the deposit currency. Then you can choose a convenient payment system for you — VISA or Mastercard, and click on the Deposit button opposite to it.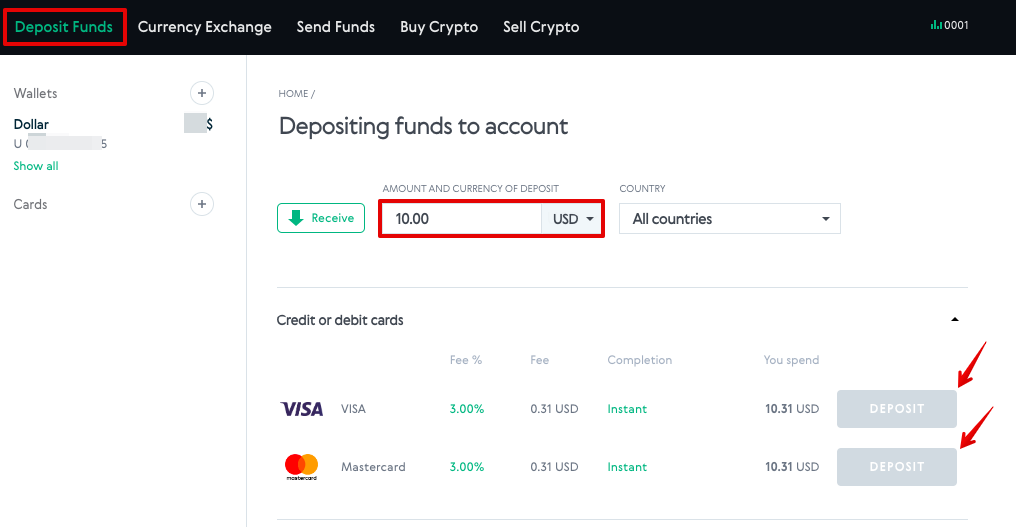 Be sure to review the terms and conditions of replenishment. The fee will be calculated automatically. Click on the Continue button.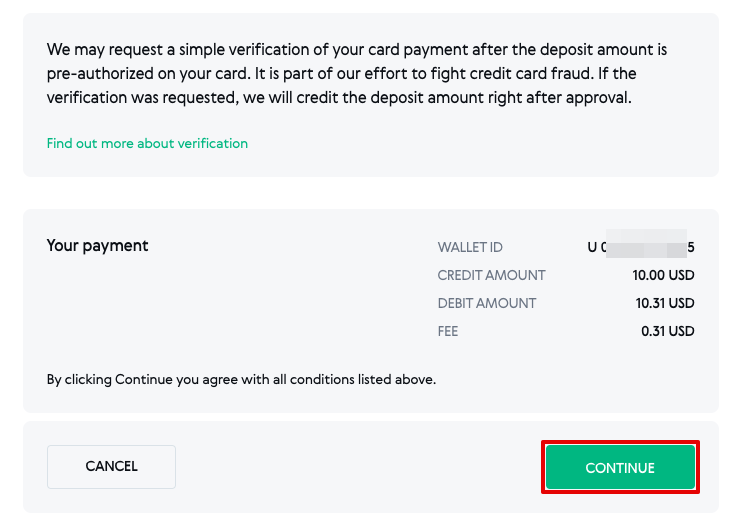 Enter your payment details. Then tick the checkbox to confirm you agree to the payment terms and click on the Pay button.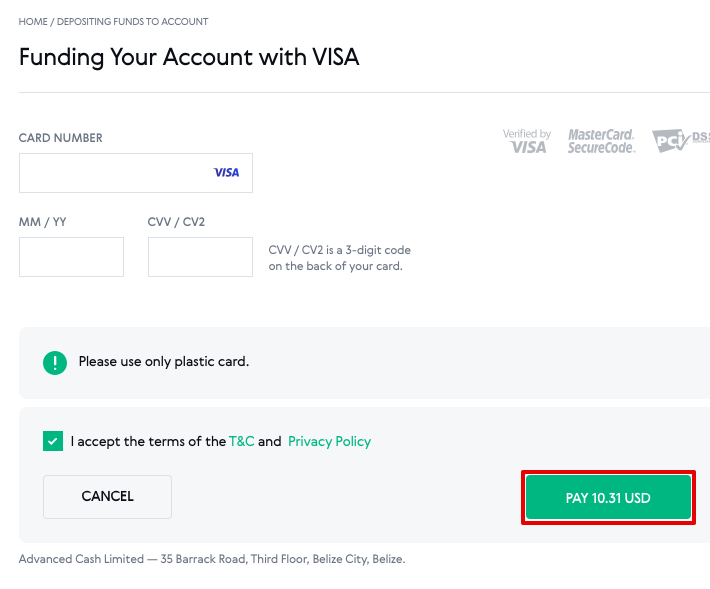 If you have never used this card to fund your account before, you may be required to verify the card. In this case you will receive an email with detailed information.
You can only deposit funds to your account using a plastic card issued under your name. The amount of all card deposits per day cannot exceed 10,000 USD. Within 60 days you can use no more than 3 different cards to top up your account.