You can find the description of CryptoRobotics referral program on this page https://cryptorobotics.io/referral-program/
Manuals on how to sign up and get a referral link:
Go to https://cryptorobotics.net/ website and sign up: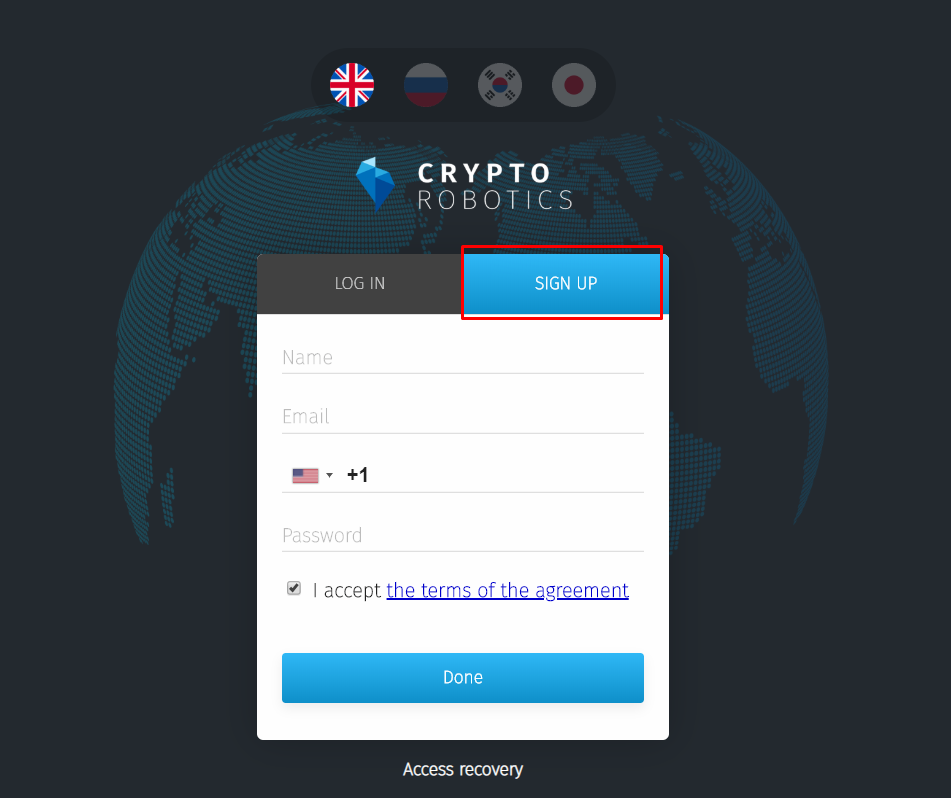 Standard registration form — name, email, phone, password. Accept the terms of the agreement and click the Done button.
After that you need to confirm your email. In the email you will receive a code that you need to insert into the form and click the Done button.
If you have not received an email, then check the spam folder.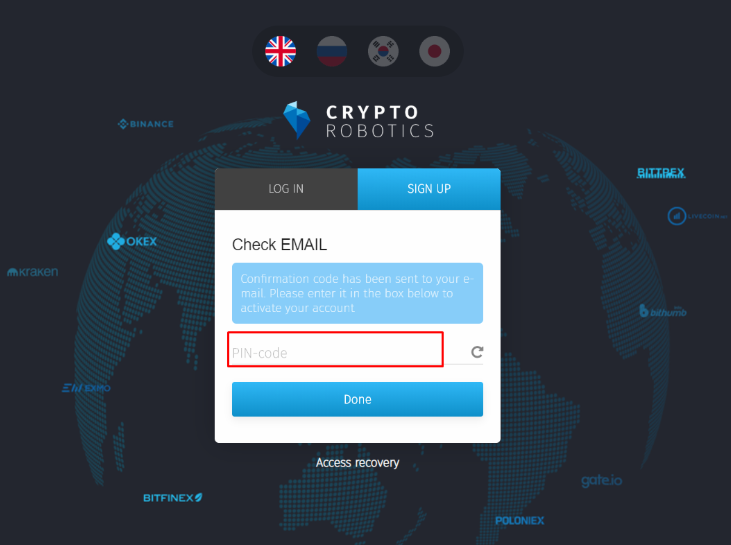 Next you will be offered you to connect two-factor authentication (Google authenticator, FreOTP) to protect your account.
You can install it immediately or continue without installation by going directly to the terminal.
You can also install 2FA in the dashboard of your terminal in the Account> Personal Data section.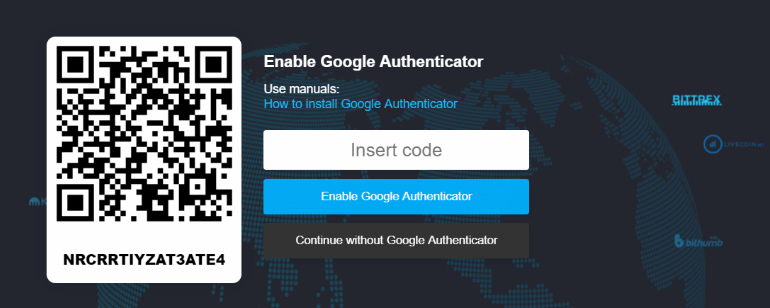 2) To get a referral link you need to go to menu —>
ACCOUNT — REFERRAL PROGRAM
When you visit the section for the first time, you will see a description of the program, as well as the rules, which you need to agree to using the checkboxes and the Participate button.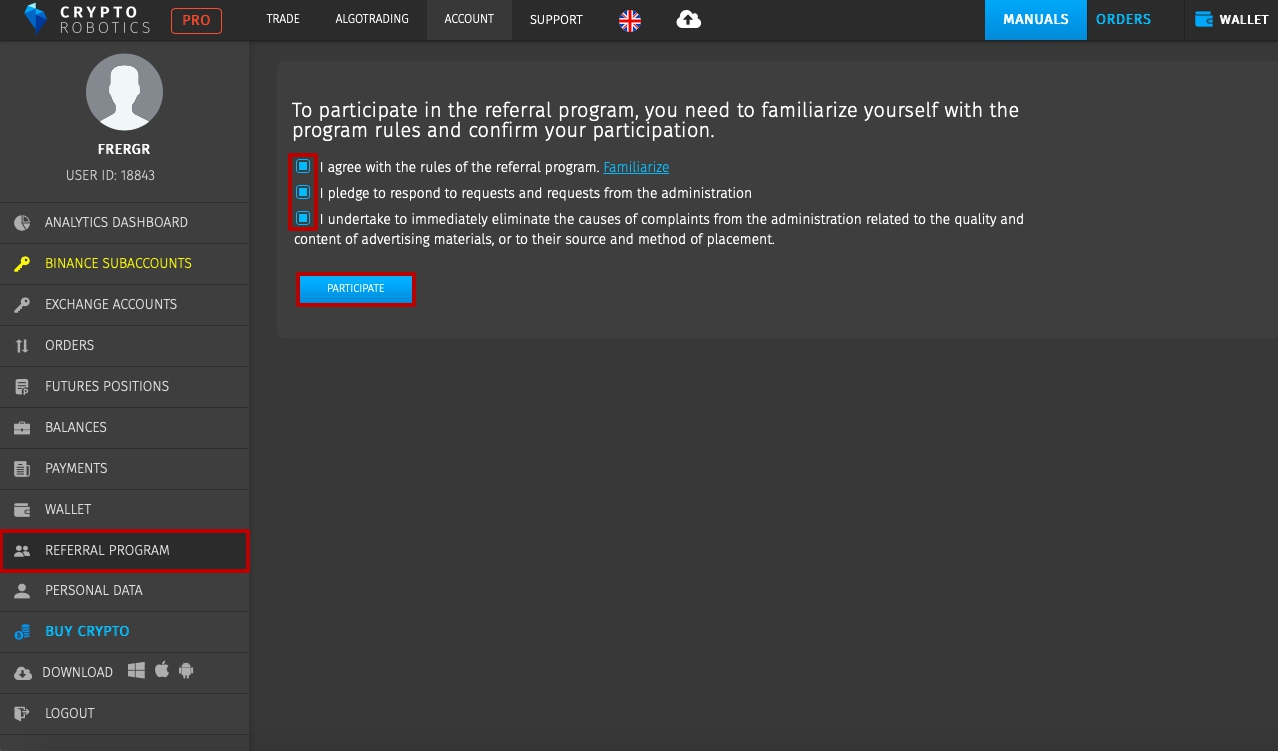 After clicking on the Participate button, you will have access to your referral link.
You'll get access to the following options of referral links:
English, which leads directly to the English version of the site
Russian, which leads directly to the Russian version of the site
demo, which leads directly to the demo version of the site — in order toget acquainted with the functions of the platform, an invited friend will not need to register, it will be enough to watch the demo version.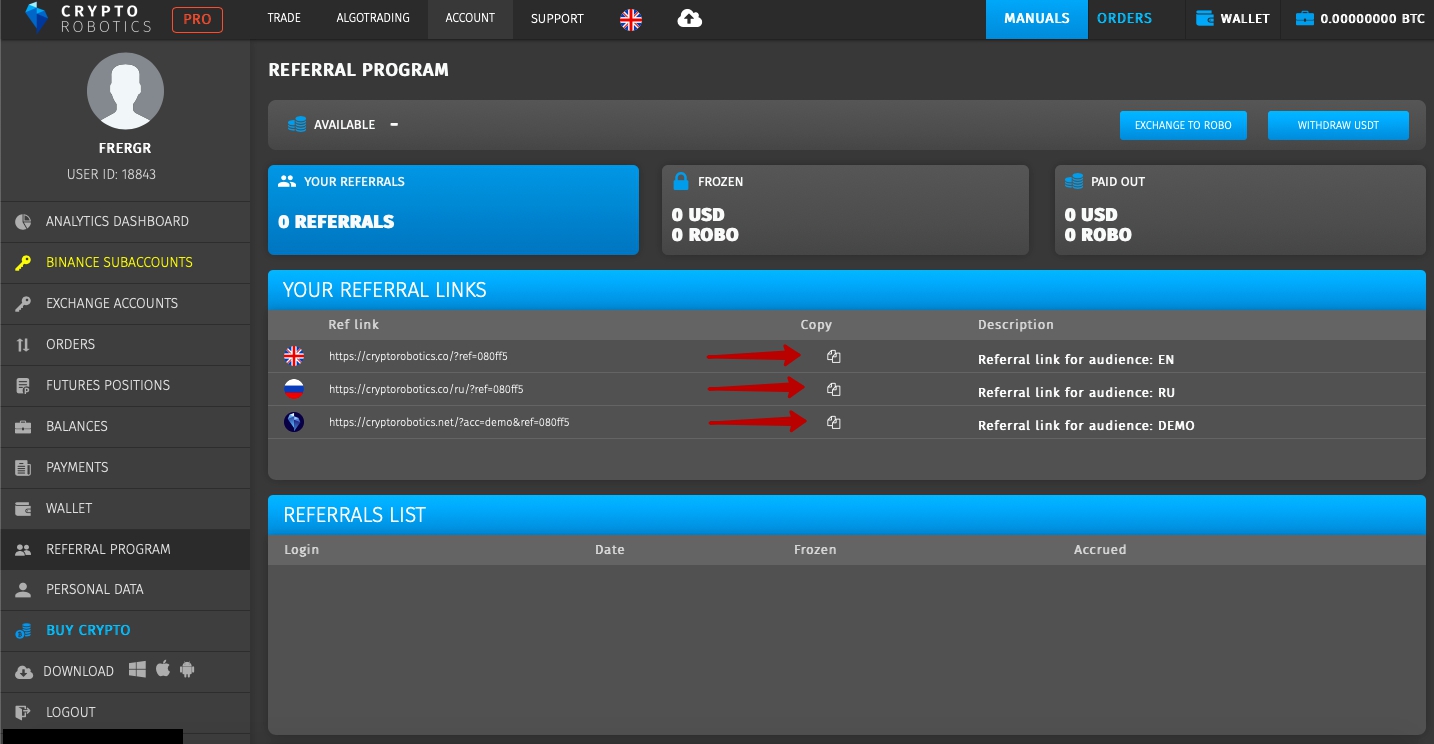 In the footer of the page, you can once again study in more detail all the rules of the Referral Program.
Main terms of the program:
6 USDT are frozen on your account for registering a new user;
for the purchase by an invited user of a package or services, you are charged 20% of each of his purchases (no time limits);
6 USDT for registration are unfrozen and added to the balance, which can be withdrawn from the account after the amount of purchases and/or the total amount of CryptoRobotics earnings from trades of the invited user by Profit Sharing reaches 11 USDT.

After you started to invite users, the Referrals section will display referrals and the balance of accruals for each of them. For each referral, a drop-down list is available with details on accruals: service, date and amount of the referral reward.
At the top of the panel, metrics for your referral link are displayed:
amount of available referral reward
the number of referrals
amount of frozen USDT
the number of previously paid (withdrawn) rewards