First, go to the «Аlgotrading» section and select the «Trading robots» section.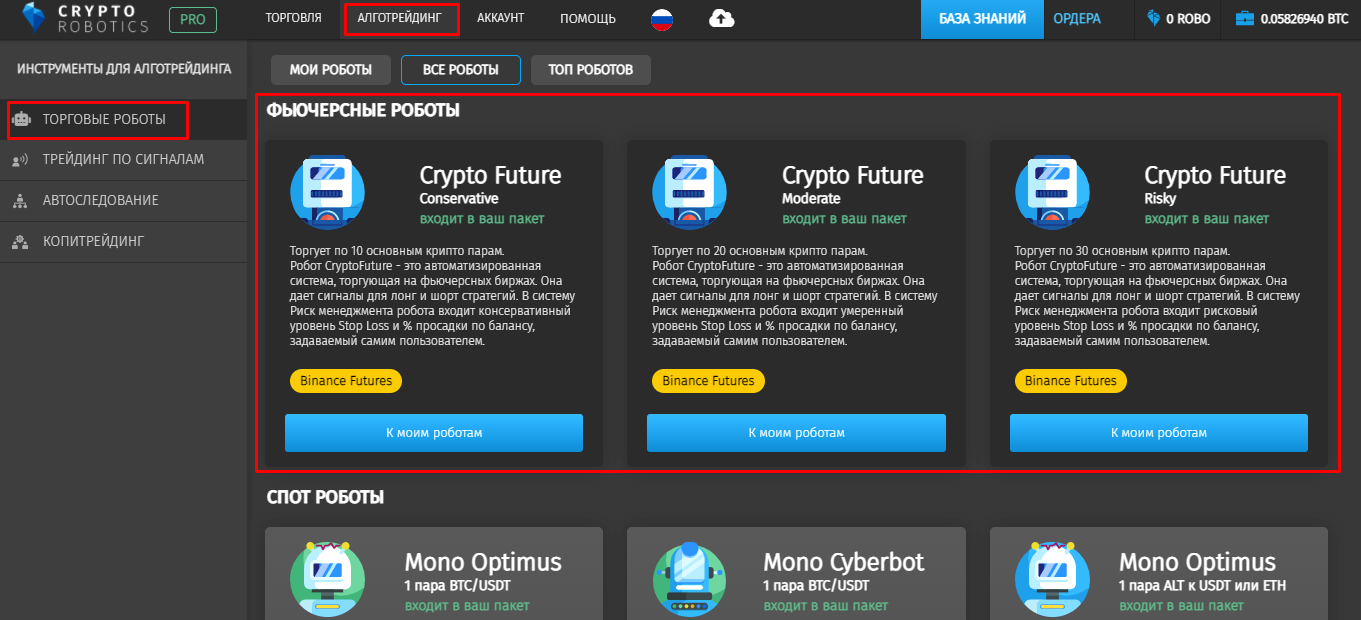 Let's take a closer look at one of the robots. Go to the «My robots» tab and click on the «Manage» button.
A window opens with the parameters and settings of the robot. There are two modes. These are test mode and work mode.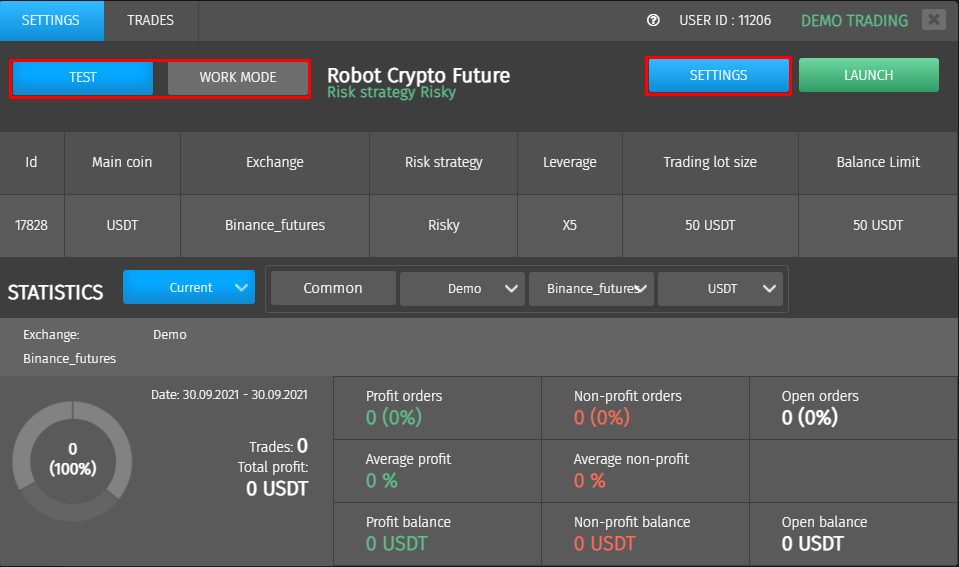 If you haven't run such robots yet, you can run it in test or demo mode. In this case, the bot will enter into the real order deals directly according to the chart, taking into account the order book, but without affecting your balance.
The bot is available for test on any of the packages, including the FREE one.
Test period lasts 14 days from the moment the bot is added to the My robots section.
If the bot was added to the system by you more than 14 days ago or was already included in the paid package, it will not be available for test on a FREE package.
Let's run the robot in test mode, for this you need to select the work mode and go to the settings.
The first thing we do is choose an exchange — Binance Futures. Keep in mind that in order to be able to connect the Binance and Binance futures exchanges, it is necessary to pass verification on these exchanges themselves, before linking them via the API. Next, select one of the keys or accounts. You may have several of them. Select the currency — USDT. Next, we select the balance for trading, for example, $150 and the amount for the order $50.
The next step is the leverage. We recommend you do not use large leverages, as this is associated with additional risk.
In case there are unexpected jumps in the market that can lead to a strong drawdown of your deposit, you can specify the percentage of loss for which you are ready. That is, in the risk management section, you can select the option to stop and sell everything or just stop buying if your balance starts to fall below the specified percentage.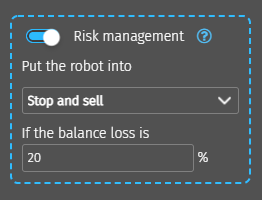 The statistics section will display all statistics for the running robot. These are the percentage of profit order, and non profit orders, the average profit, the average loss and the balances of profit and loss.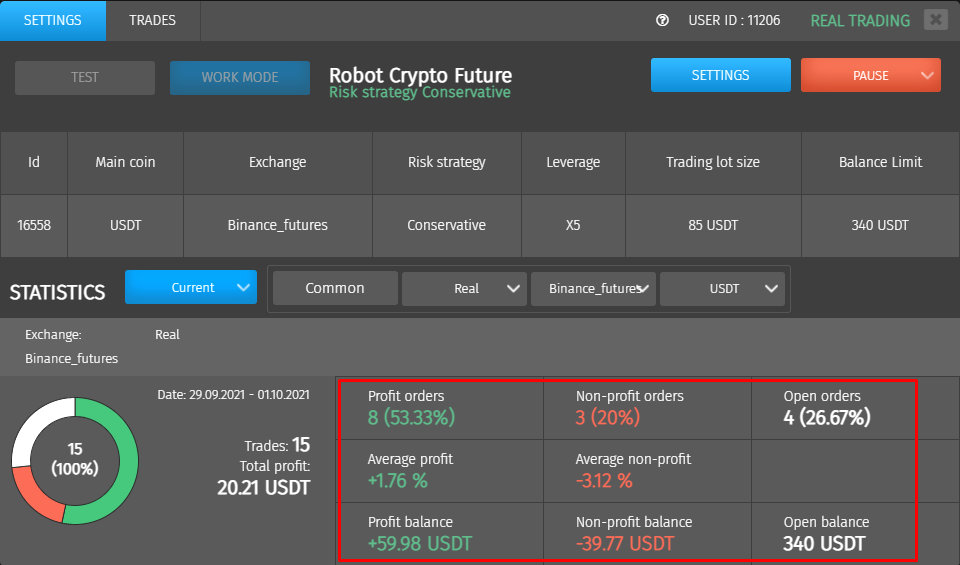 You can also go to the "trades" section, where both closed and open deals will be displayed. Also, there is information on the exchange, currency pair, opening prices, opening time, closing prices, closing time and its status, profit on both closed and open orders in real time.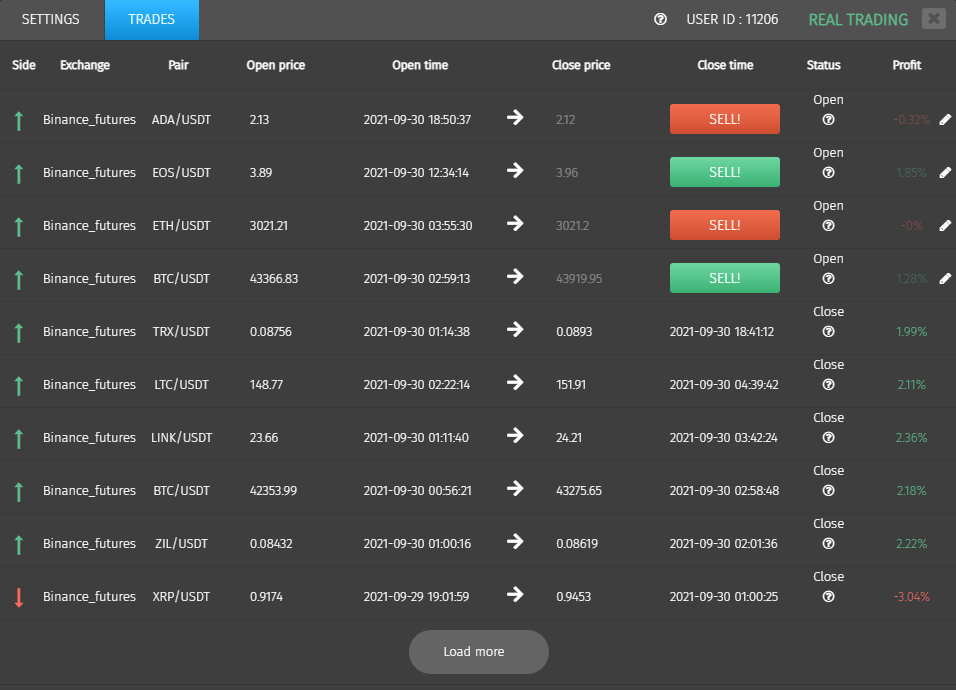 The robot gives signals on market reversals down and up, respectively, if you notice that the robot does not open new deals for a long time, you need to understand that it is waiting for a reversal, after which trading will resume.