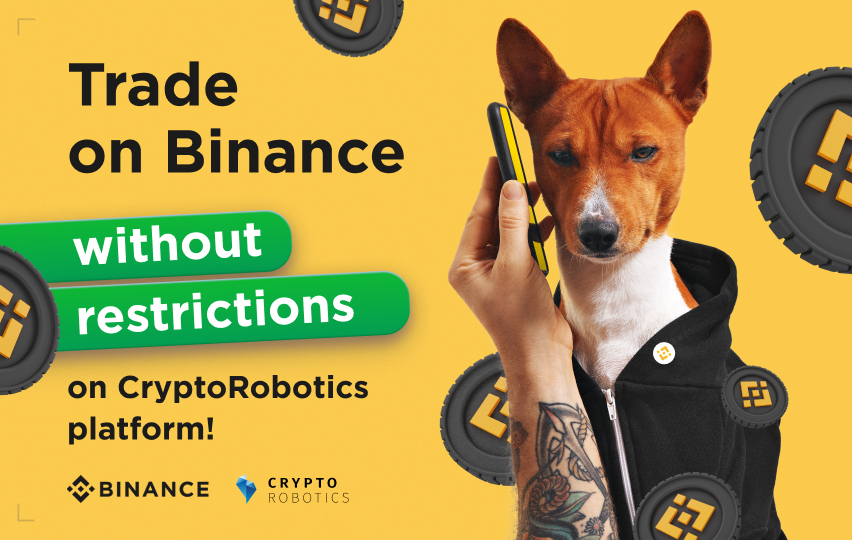 Cryptorobotics is the official broker of the Binance exchange.
Corporate verification of the broker company allows it to create subaccounts on the exchange for users.
We create subaccounts for users by request:
to simplify the process of creating an account on the exchange for novice users,
to create an account in regions where there may be difficulties with verification and access to popular trading functions, for example, trading on Binance Futures,
to create additional accounts when the presence of a basic one for separating trading balances for several independent instruments,
to solve the problem of restrictions on trading volume.
To create an account, you need to:
Step 1. Go to the Account panel, select the Binance Subaccounts tab and click on the + Binance Subaccount button.
Step 2. Create subaccount
To be able to withdraw funds from subaccount you need to have three authentication methods: Email, Telegram and Google Auth.
To enable Telegram and Google Auth go to Personal data section. Click Connect to connect telegram account: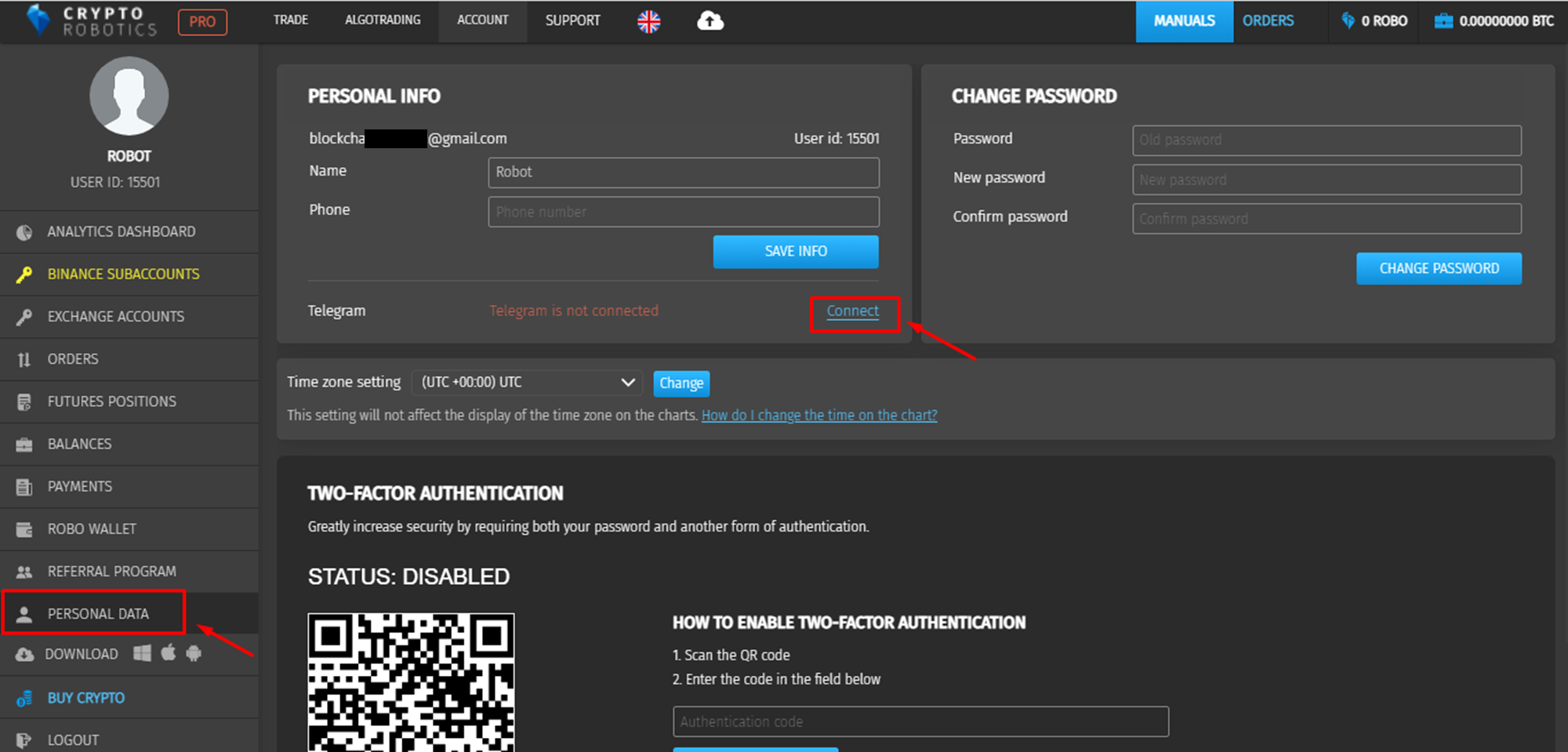 When you click Connect a new window opens where you can click send message to launch CryptoRobotics Bot (@cryptorobotics_auth_bot).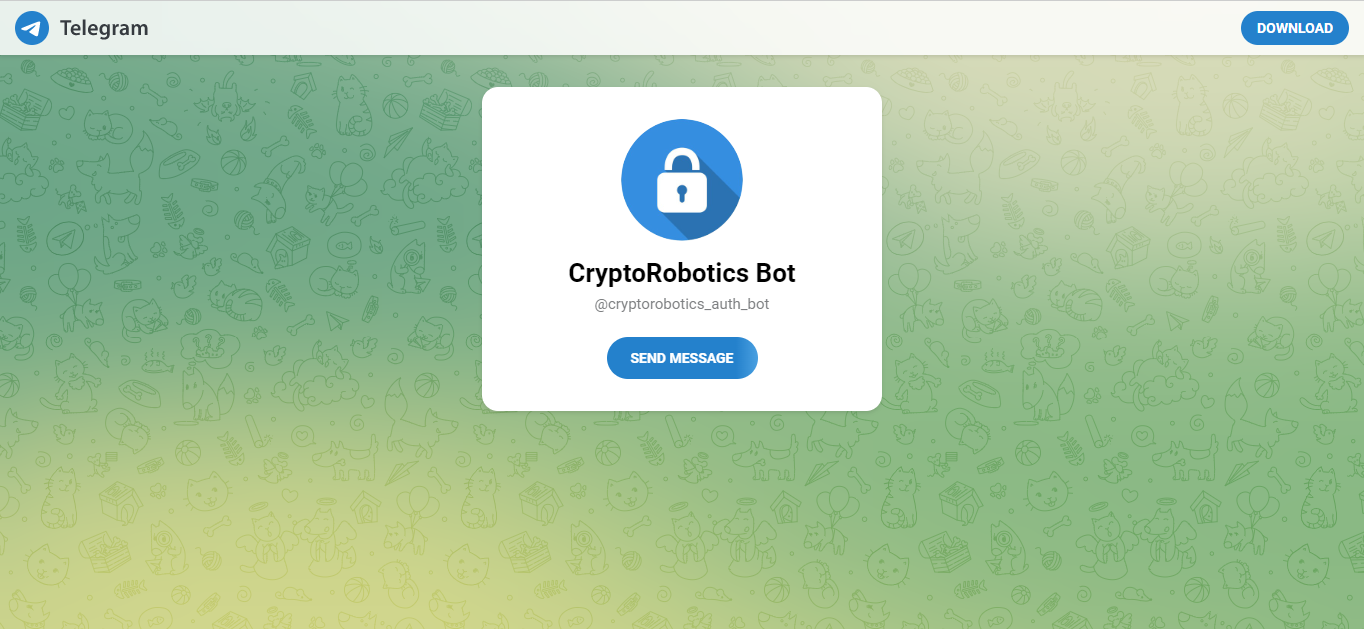 Telegram account will be connected when you send /start message in chat.


After that return to prevous tab with binance subaccount creation:
the API key for Binance is added automatically;
to add a key for Binance Futures, you need to toggle the appropriate slider;
set a name for the subaccount;
read the rules and click on the Create subaccount button.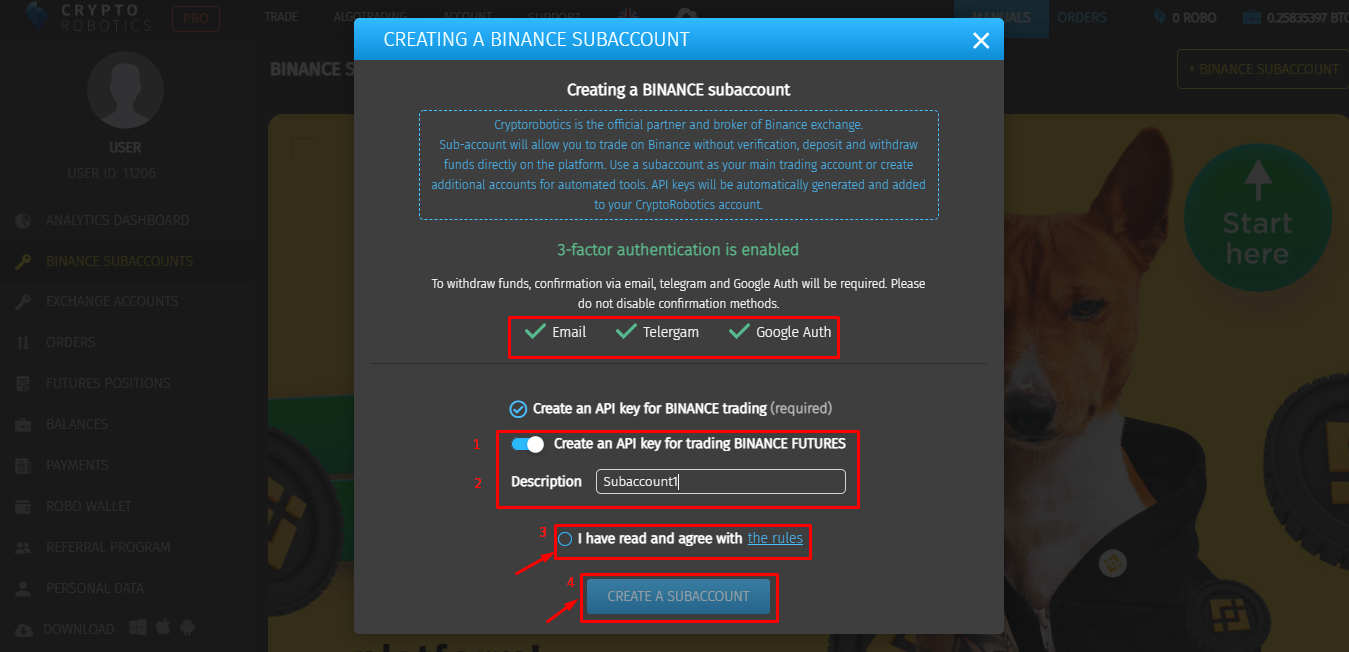 ATTENTION! If you lose access to your mail or telegram account, then they cannot be restored (updated) in the terminal.
A maximum of 2 subaccounts can be created.
After that, the line with the subaccount will appear in the Exchange Accounts section for the Binance Futures and Binance exchanges.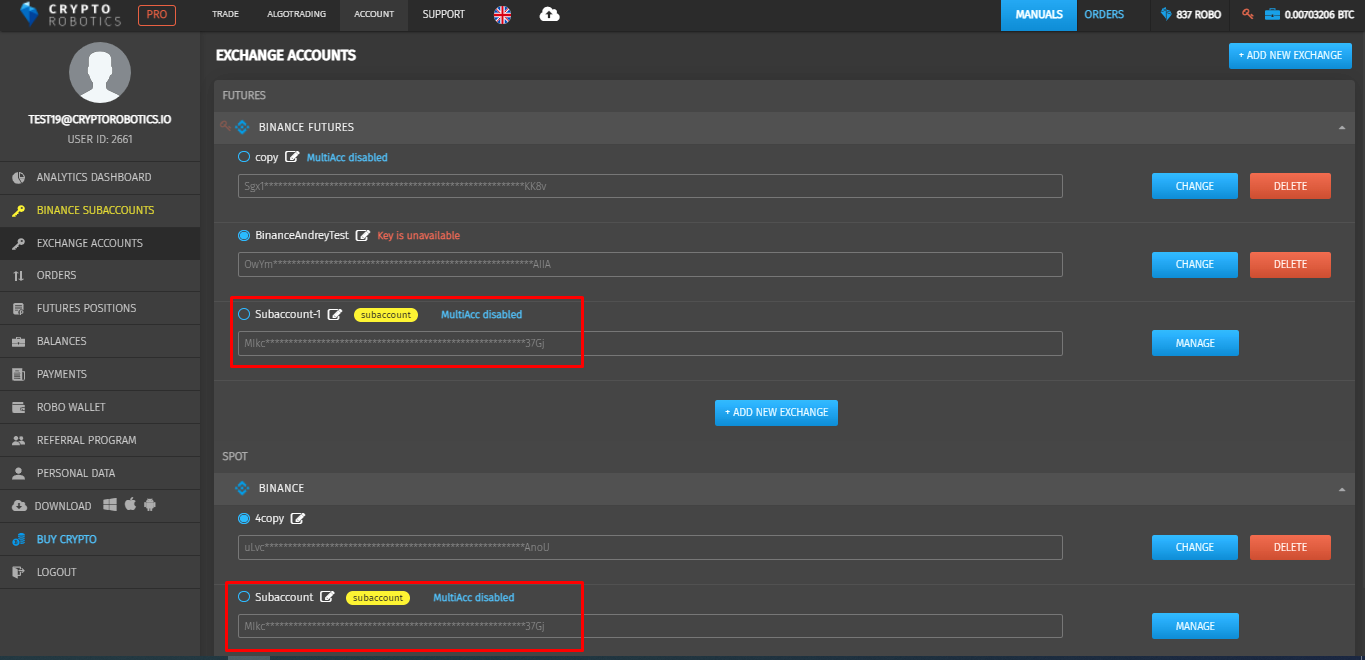 Step 3. To fund the main (spot) wallet, you need to go back to the Binance subaccounts tab and click on the Deposit button. You can deposit the futures wallet only by transferring funds from the spot wallet.

Step 4. In the opened window select a currency, network and click Get an address button.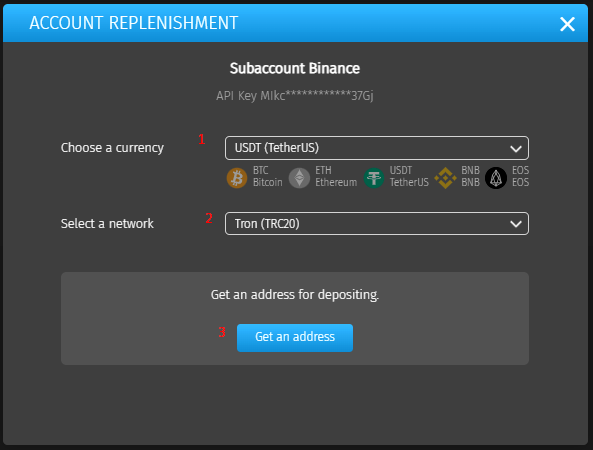 Step 5. You need to send coins to the opened address.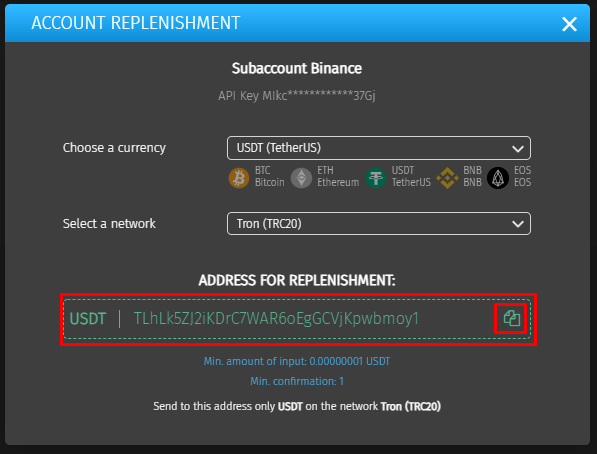 Step 6. To transfer funds on the futures wallet (from the spot wallet), click the Transfer button.

Step 7. In the opened window you need to select the accounts between which you plan to transfer funds, select the currency and amount, agree to the terms of use and click the Send a transfer button.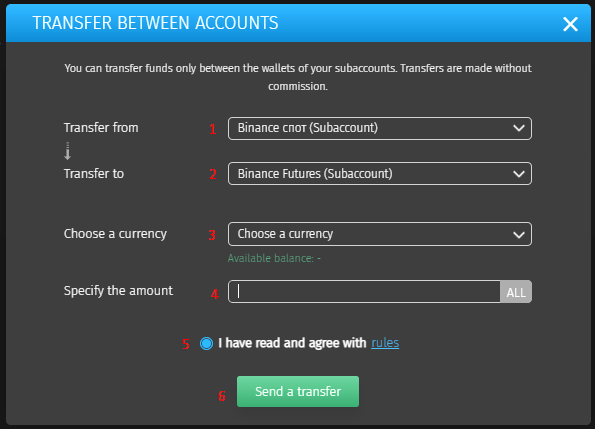 Step 8. To withdraw funds from subaccount click Withdraw button.

If you created a sub-account and changed one of the authentication methods, then the withdrawal will be unavailable for a day.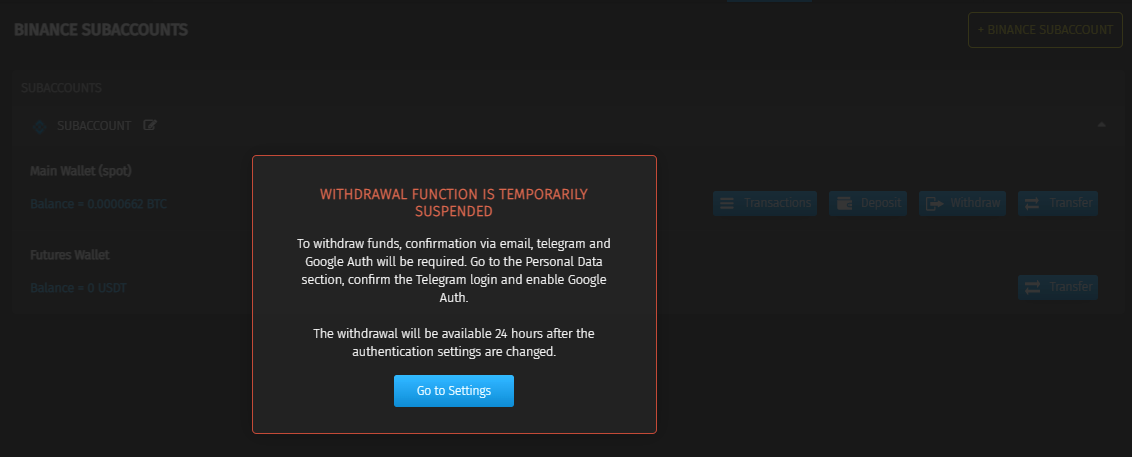 To withdraw funds enter necessary details: choose a currency, enter a withdrawal address, select a network, enter a withdrawal avount, agree with rules, and click on Withdraw funds button.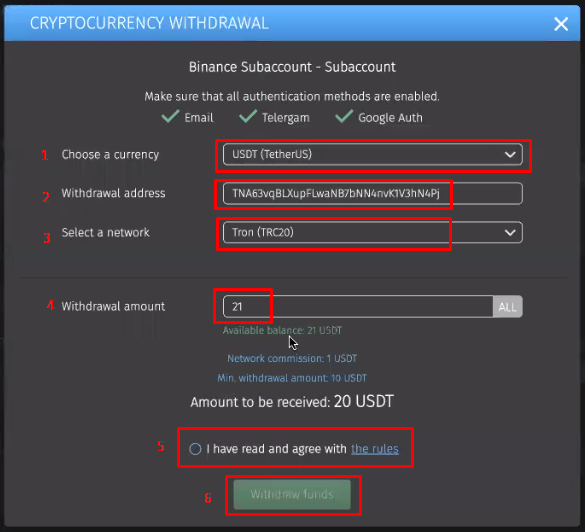 In order to confirm the withdrawal enter necessary codes from Email, Telegram and Google Auth, and click Continue.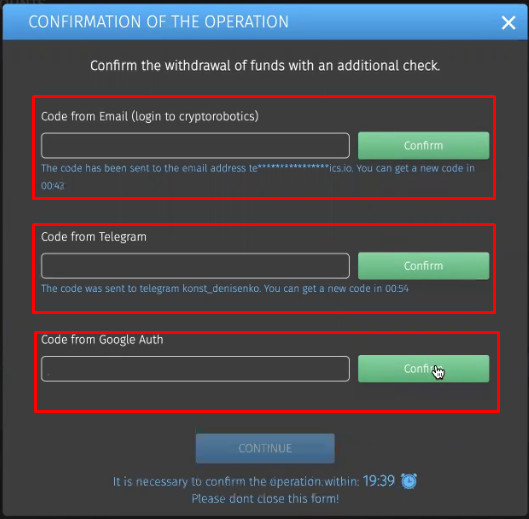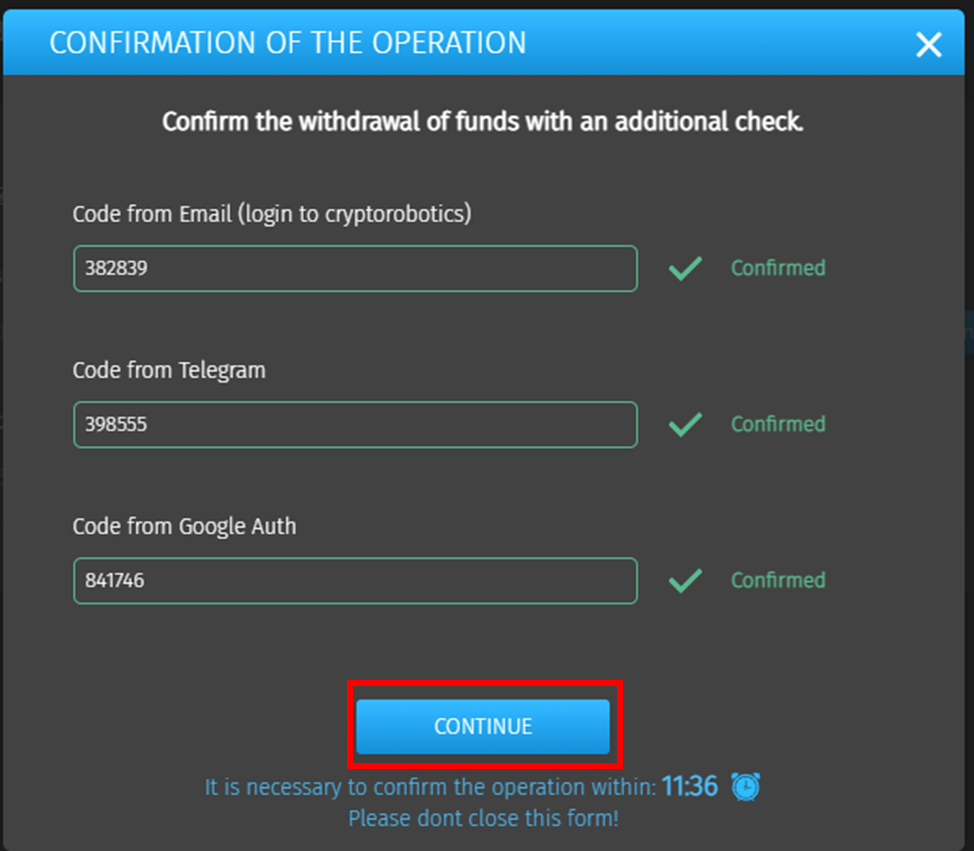 After clicking Continue the window with transaction history opens where you can find that your transaction is in progress (status — pending).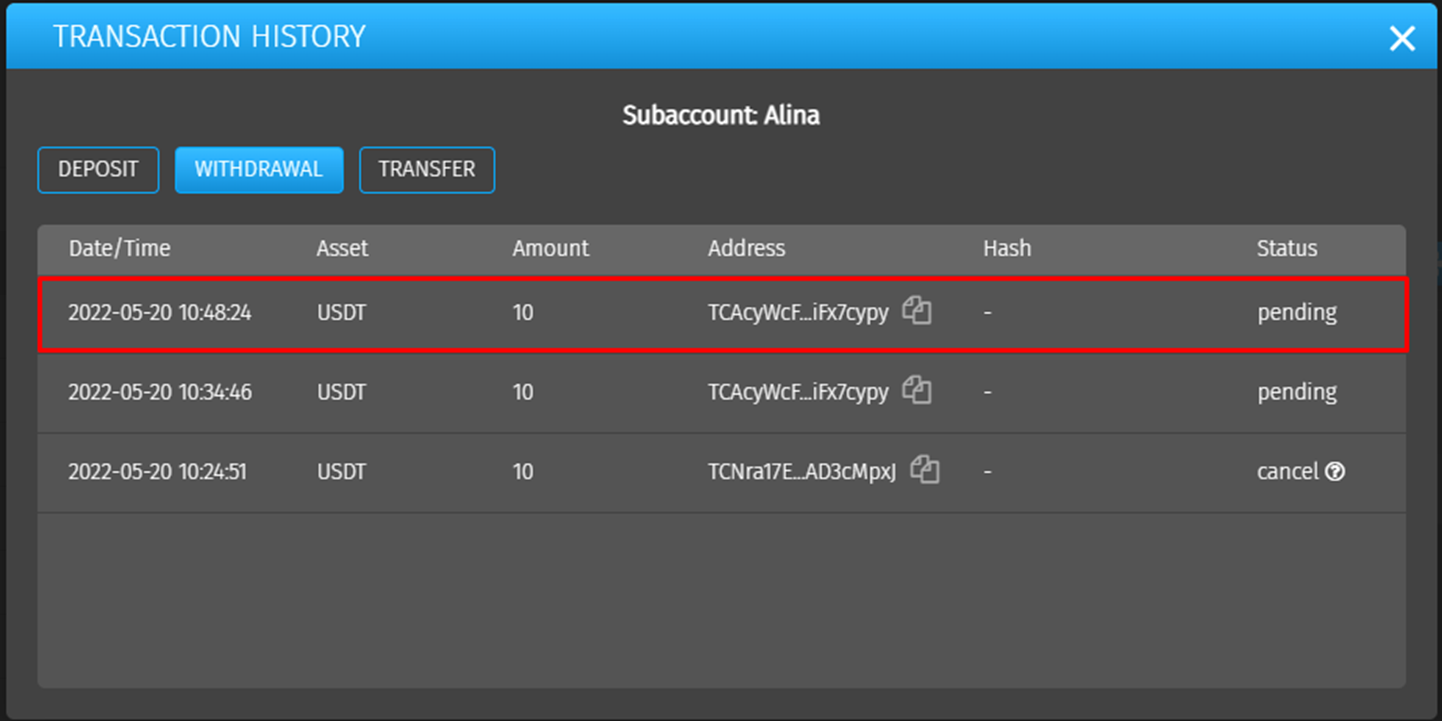 Step 9. You can also look at the transaction history by clicking on the Transactions button.