Two-factor authentication is an additional way to protect your account. After connecting 2FA to the terminal, when logging into the account, in addition to entering the login and password, there appears a field for entering the secret one-time code (changes every 30 seconds) that you receive on your smartphone.
There are 2 types of two-factor authentication connections available on the CryptoRobotics platform: via the Google Authenticator app and via the FreeOTP app. You can use any of the methods listed above.
In this manual, we will consider enabling two-factor authentication via Google Authenticator.
You can activate two-factor authentication when launching the terminal or in the personal account in the section Account > Personal data.
To enable two-factor authentication follow several steps:
Download Google Authenticator mobile app on your smartphone
2. Launch the application, click on the plus icon -> select the option to scan a QR code, and scan the QR code that will be shown on the screen in the terminal.
Be sure to save the QR code and the code itself in a safe place, as it will help you restore access to your account in case you lose the phone.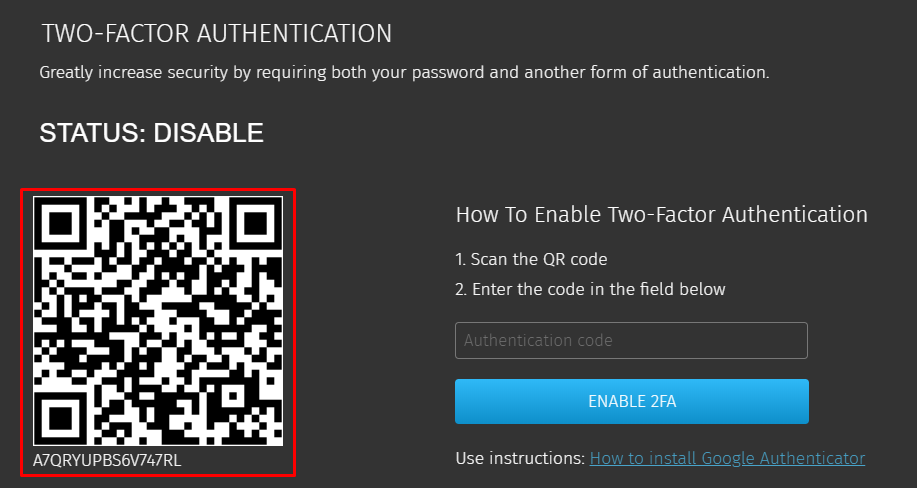 3. A code will appear in the Google Authenticator app which you should enter in the appropriate field in the terminal and protection is activated.
The system will request a code every time you log in to the terminal or perform actions that require confirmation (changing the password, transferring funds, turning off two-factor authentication, etc.)
There are several common mistakes that users face when working with 2FA:
It is necessary to synchronize the time on the phone and computer. Go to the time settings and set the automatic time detection;
Enter the 6-digit code at the beginning of its cycle. (It is updated every 30 seconds).